How to Find Keywords you can ACTUALLY Rank for in Google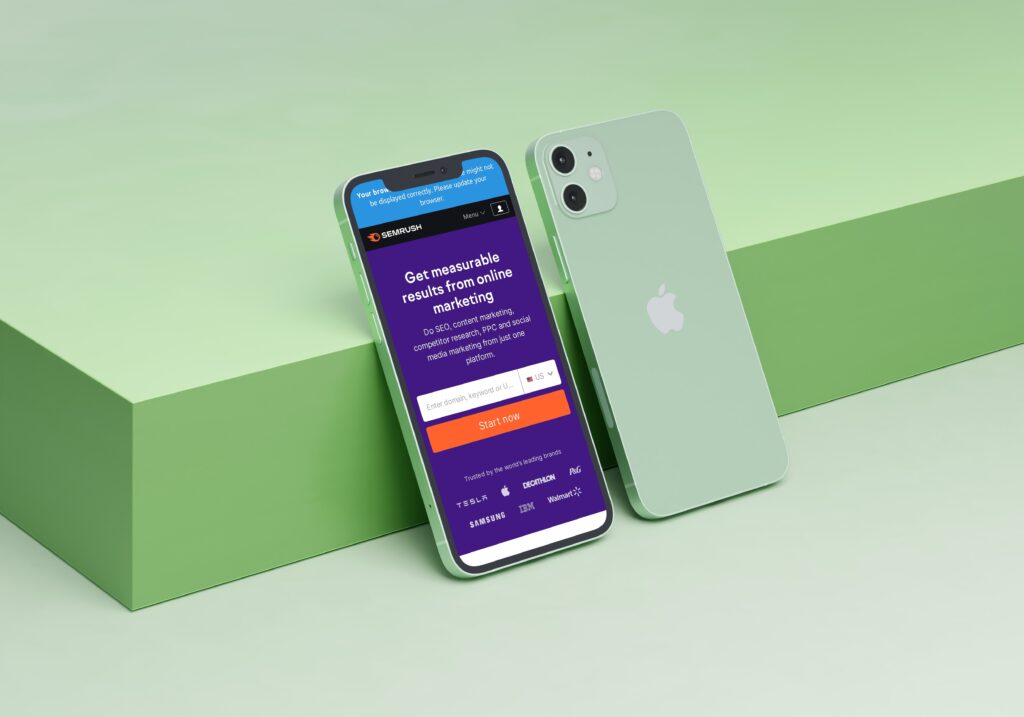 Let's face it, we all want to start ranking higher in the Google search results for keywords related to our business. The problem is there is so much competition globally that finding keywords that you can actually rank for seems next to impossible.
So, why is it that we are all obsessed with trying to get our website to appear on page one of the Google search results page?
Well, it's because between 71% and 92% of all search traffic goes to the first page of Google with the second page coming in at less than 6% of all search clicks.
To make it even worse, out of the 10 places available on page one, the first five receive 67.6% of all clicks. If you are not getting on page one and in one of the top five positions then you will be getting far less traffic than your competitors.
But how do I get on page one of Google I hear you say? Is that not next to impossible!
Yes and no. It depends on your niche and how creative you are willing to be.
What are keywords?
Let's start by clarifying what we mean by "keywords".
Keywords are the words and/or phrases users type into Google to search for information online, also known as "search queries".
If you have a website then you need to ensure that the words and phrases you use throughout your website (keywords) are relevant to what users are searching for online so that they find your content amongst everyone else's.
Keywords that are singular often drive the most amount of traffic but they are also very broad, lack specificity, and have a huge amount of competition. Keywords that include a number of additional terms (referred to as long-tail keywords) are more specific, have less competition, and have a more clearly defined intent.
For example, the keyword, "t-shirts" is broad and highly competitive. It would be hard to rank for that keyword without some significant time and effort.
However, the long-tail keyword, "red striped women's t-shirt for summer" is more specifically defined, has less competition than the single keyword, and would be easier to rank for on Google.
If you are a small business with a new website then you should focus on trying to rank for long-tail keywords and those with low competition.
How do I find long-tail keywords and see how competitive they are?
The best way to search for long-tail keywords (in my opinion) is to use an SEO tool called SEMRush.
SEMRush has the most comprehensive and mind-blowingly cool SEO tools to help grow your small business. Every time I use their software I am amazed at how much detail and how many opportunities they identify for SEO.
For the purpose of finding keywords that you can ACTUALLY rank for we are going to use two tools provided by SEMRush.
Keyword Magic Tool
The first tool is the "Keyword Magic Tool" and the second is the "Keyword Overview Tool".

The Keyword Magic Tool is an easy-to-use keyword research tool that provides you will all the keywords you need to build a successful and profitable SEO strategy.
To use the Keyword Magic Tool start by entering a keyword that you want to research for your website.
In this example, I have started by researching the keyword "t-shirts". Once you hit the "search" button you will see a page with the research results and a huge amount of data that you can filter to meet your website SEO requirements.
Let's have a look at the results below: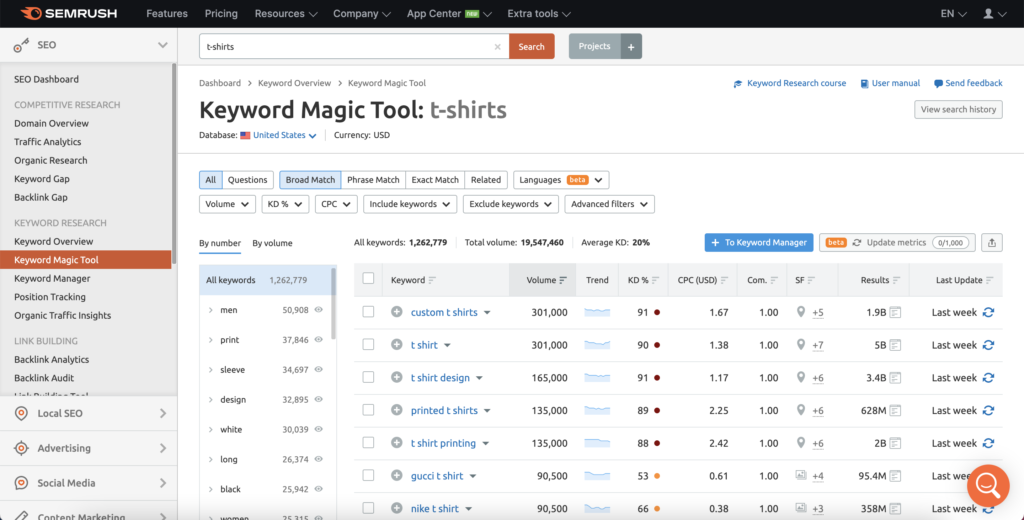 We can see that the search results provide us with over 1.2m keyword variations for the keyword "t-shirts" along with a total search volume (how many times those keywords are searched per month) of 19.5m. That is a lot of search traffic!
There are two really important columns to look at here and those are "volume" and "KD%".
Volume represents how many times that keyword is searched for per month over a 12 month period.
KD% represents "Keyword Difficulty %" and is a measure of how difficult it is to rank organically in the top 10 Google positions for that keyword out of 100%.
For example, the top keyword is "custom t-shirts" which has a search volume of 301,000 per month and a keyword difficulty of 91%. So, it gets searched a huge amount per month but is incredibly difficult to rank for as there is so much competition with a lot of authority.
The seven examples listed in the image above all show huge search volumes and high keyword difficulty %. If you have a website with little authority and minimal to no backlinks then you won't be able to rank for those keywords. 
Keyword Overview Tool
To give you an example of how difficult it is to rank for "custom t-shirts" let's click on the link and gather some more info with the "keyword overview tool".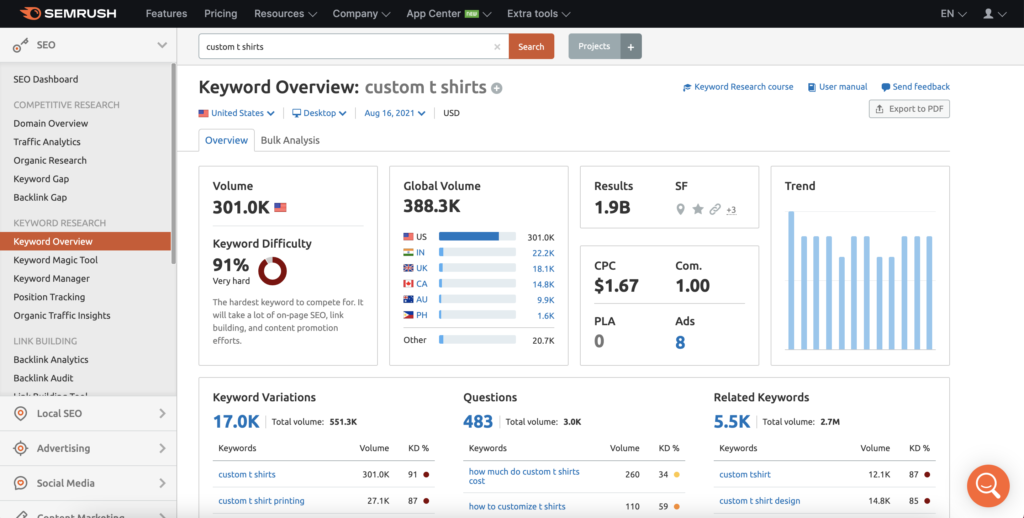 The keyword overview tool gives you an in-depth overview of that specific keyword, keyword variations, questions, and related keywords. It also provides a list of each website that is currently ranking for that keyword in position 1 – 100 of Google.
Scroll down the page and click on "get metrics".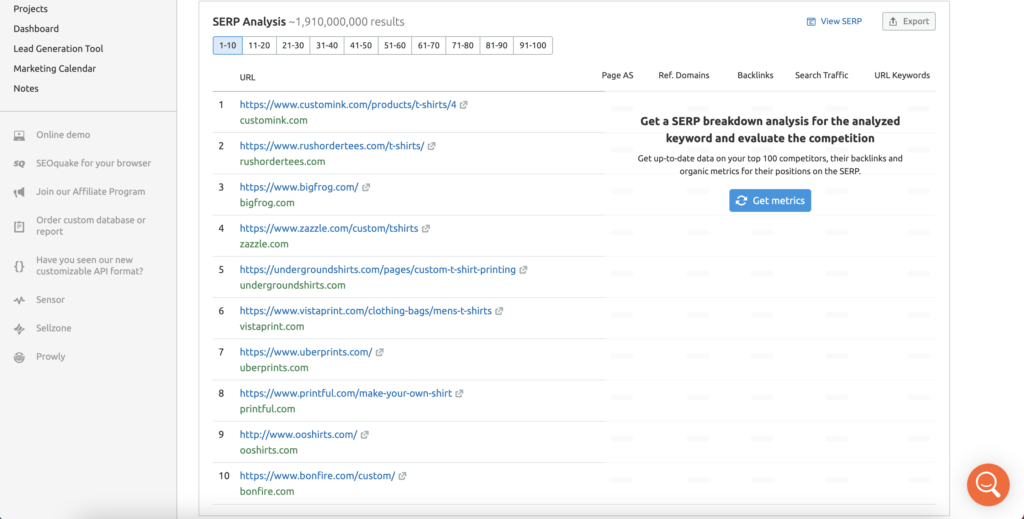 The results will display the competition there is for each website for that keyword and gives you an idea of the kind of work you will need to do to rank on page one of Google for that keyword.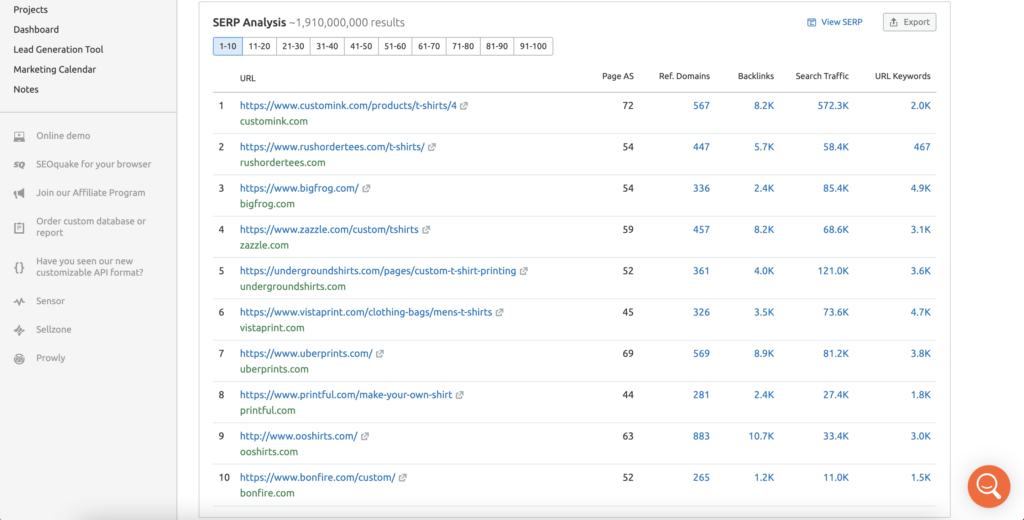 For example, on the screen, above we can see that the 1st position on Google for "custom t-shirts" receives approximately 572k visits per month, has 8.2k backlinks from 567 referring domains. Getting into that position will require a very significant link-building strategy over many months or years.
So, how do we find keywords you can actually rank for?
Ok, let's go back to the Keyword Magic Tool. We are going to filter the search results so that they only display keywords that have a keyword difficulty of "very easy or "easy".
Click on the down arrow next to the KD% filter and type in 0 – 29 in the custom range.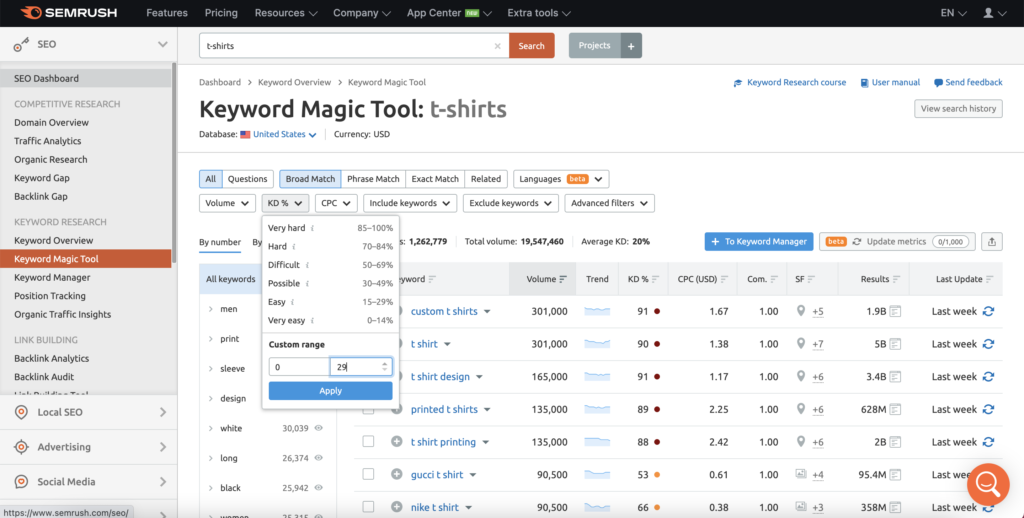 The results will change to display keywords that have a difficulty of 0% – 29% to rank for in the top 10 Google search results. 
Keywords in this range will be much easier to rank for but remember the higher the KD% you go for the more authority (mostly from backlinks) you will need to have in order to rank. 
So, if you have a new website and are looking to start ranking your first blog posts and content or are just looking for quick wins then reduce the KD% to "very easy" 0% – 14%.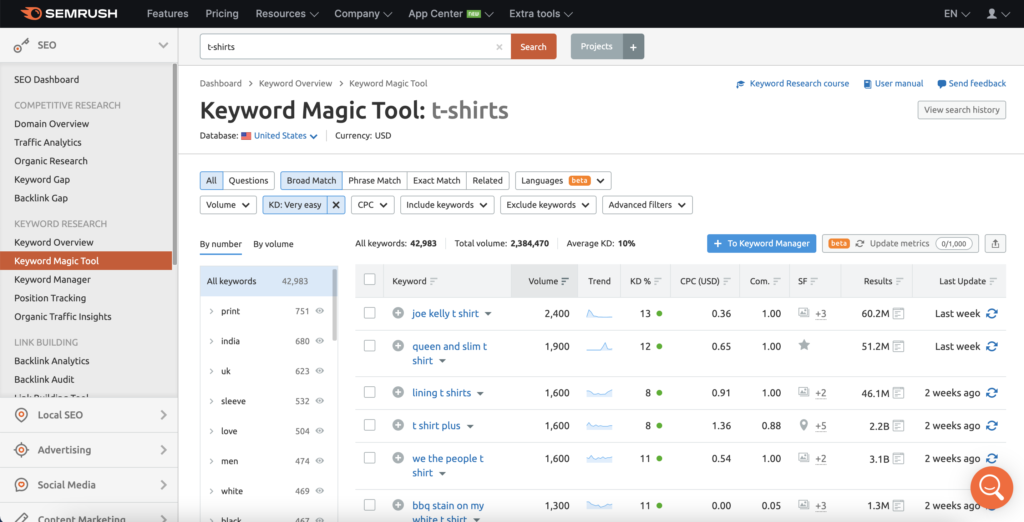 Now you can see some really exciting keyword research! The keyword "joe kelly t shirt" has a search volume of 2400 per month but only a keyword difficulty of 13%. If we click on that keyword we can use the keyword overview tool to see what our competition is like and what we would need to do to start ranking on page one of Google.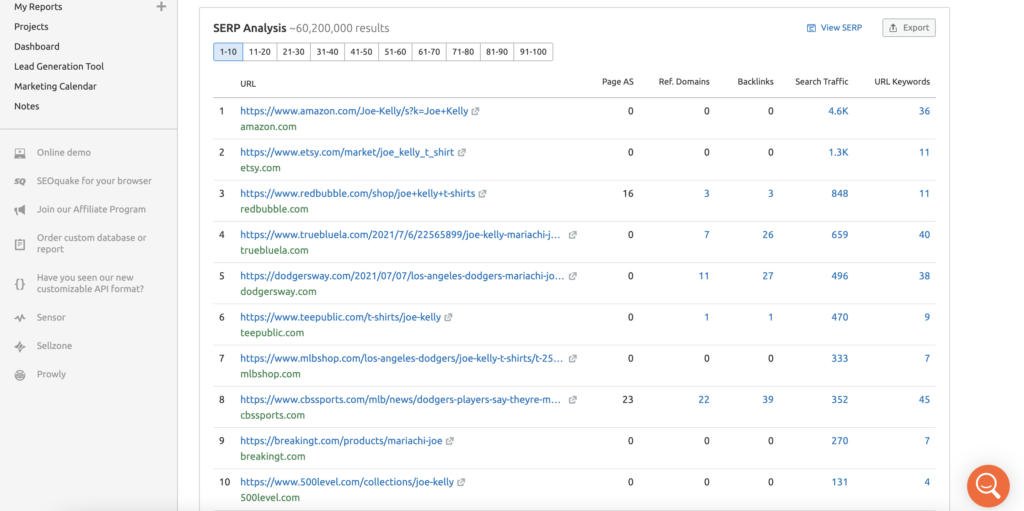 On the screen above you can see that most of the pages in the top 10 have very little if any referring domains or backlinks (between 0 – 22). To rank for that keyword you would need to write SEO optimised content that contains between 4-40 URL keywords and ideally has some backlinks (but not many).
How do I get started?
This isn't a guarantee that you will start to rank for that keyword immediately. You will need to publish your content and periodically review your rankings and competition and make adjustments to push yourself up to the 1st page.
Once you have published your content there are over 50 SEO tools in SEMRush that you can use to move your content up to page one.
For example,  the "On-page SEO checker" tool will compare your published page with your competitors and give you insights on what you can do to get ahead of their content and improve your rankings. It really is an amazing tool!
Free 14 day Pro Trial of SEMRush
To get started with a FREE 14 day Pro trial with SEMRush click the link below.
(I am an affiliate partner with SEMRush and I get commissions for purchases made through this post).