How to Create an Online Pet Store – [Ultimate Guide]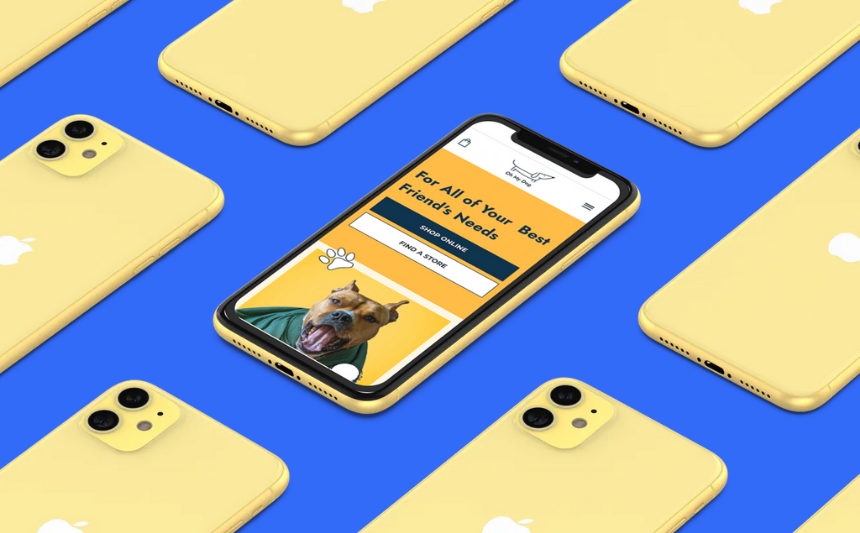 So, you want to create an online pet store? Well, starting a business online can be an excellent way to start earning money without having to invest in physical infrastructure (such as shops and warehouses), saving you both time and money.
An online pet store is no exception to this and can be created and managed from home allowing you to build a brand and business around your passion for pets.
But is it worth all the hassle?
Well, the pet care market was valued at over $223 billion in 2019 and is set to grow by 5.9% between 2020 and 2026.
You only have to conduct a quick Google search and you can see examples of successful online pet stores such as ZooPlus, Fetch, PetPlanet and PetShop.
The significant growth expected in the pet care market over the next five years provides an excellent opportunity to build an online business and capitalise on that growth!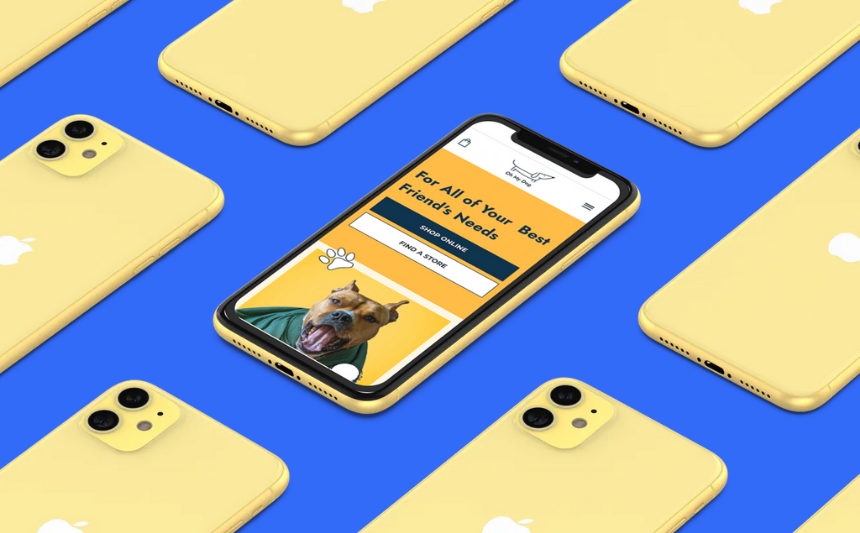 How to Create an Online Pet Store #1:
Write a Business Plan
Before you dive straight into building an online store it's important to research your business idea, review the market for opportunities, and create a business plan that maps out how your business is going succeed.
In your business plan you should consider which pet products you are going to sell, competitors, pricing, how you will finance your business, wholesale pet suppliers, and your competitive advantage.
Does that mean you need to write a detailed business plan right from the start? 
Well, a study by HBR (Harvard Business Review) found that startups who wrote a business plan were more successful than those who didn't. However, they also found that the most successful businesses wrote their plan over time and were flexible to the changing needs of their business.
Ultimately, they identified that the most successful entrepreneurs were those that wrote their business plan between six and 12 months after starting their business. They also found that this increased the likelihood of success by 8%.
Of those entrepreneurs that spent three months writing their business plan the chance of business success increased to 12%. 
So, make sure you plan, take your time and get it right.  
Check out this in-depth article in Forbes on how to write a business plan.
How to Create an Online Pet Store #2: Find Your Niche
Launching a one-stop online pet store selling every pet product available might seem like the best approach to ensure you make sales but it actually makes it much harder for you to stand out against all the other online pet stores.
The best approach is to pick a niche and become the go-to online pet store for that smaller market segment. It will make you stand out against all the noise and help drive more targeted traffic to your online pet store.
Niche – "denoting products, services, or interests that appeal to a small, specialized section of the population."
For example, you could choose to focus on one of the following niche areas for your online pet store:
Pet food
Pet living
Pet grooming
Pet health
Pet fashion
You could also further niche down within one of those categories.
For example, you might choose the niche "pet health" but then further specialise in supplements and vitamins for pets.
You could be even more specific and focus your niche on only selling vitamins for cats.
Imagine it from the point of view of the consumer. If they are searching online for vitamins for their cat, are they going to visit the generic online pet store that sells everything or the online pet store that specialises in "vitamins for cats"?
By choosing a niche you become the go-to expert for that sector of the market. Once you have capitalised on your niche area you can start to add additional product lines and growing your business. 
How to Create an Online Pet Store #3: Find Wholesale Pet Supplies
As part of your business plan you will need to identify suitable wholesale pet supplies that are within your budget and are able to source and provide you with the specific products you intend to sell.
If you are planning on running your online pet store from home you might want to consider drop shipping as an option. 
What is dropshipping?
Dropshipping is a supply chain management technique in which the retailer does not keep goods in stock, but instead transfers customer orders and shipment details to either the manufacturer or a wholesaler, who then ships the goods directly to the customer.
Sites like Oberlo and The Paws are a good place to start looking for pet store products for dropshipping.
How to Create an Online Pet Store #4:

Choose a Business and Domain Name
Now it's time to choose a name for your business. If you intend on running your business in the UK then make sure to check that the business name you want to use is not already registered with companies house.
It is common practice to choose a website domain name that is identical to your business name. However, you need to ensure that your domain name is easy for people to remember (and is available) so you may need to play around with different ideas for your domain name. 
#1: Choose a website domain
Your website domain name is the address that consumers type into a browser to find your business online.
Choosing a domain name for your business doesn't need to be time consuming or expensive. There are lots of excellent tools online that you can use to work out a suitable domain name for your business.
A great place to get help choosing a business and domain name is namelix. Visit their website, enter keywords related to your business, e.g. pet store, pet health, dog vitamins, etc and namelix will use their amazing AI technology to automatically generate domain name suggestions for your business for free.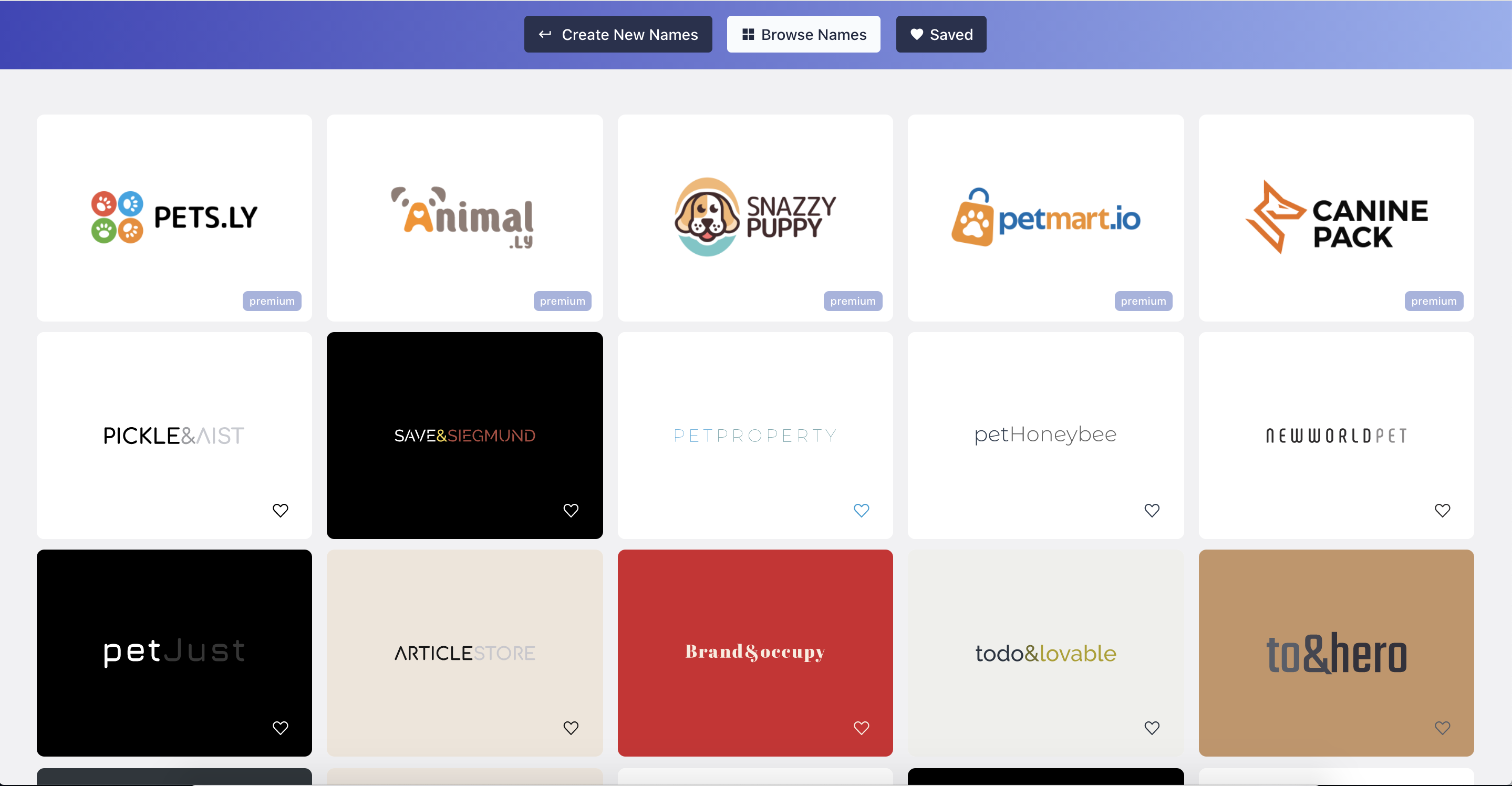 Once you have chosen your business and domain name you will need to purchase the domain name from a domain name registrar.
Google domains is an excellent, secure, and low-cost domain name registrar that you can use to make your purchase.
As you can see in the image below I have searched for a domain name and Google has provided me with the cost and variations that are available. 
Don't get too hung up on finding a .com name for your website. There are lots of different domain names available including .co.uk, .co., .net, .business etc. Having a .com domain name will have zero impact on whether your business is successful or not so go with something that works for your situation.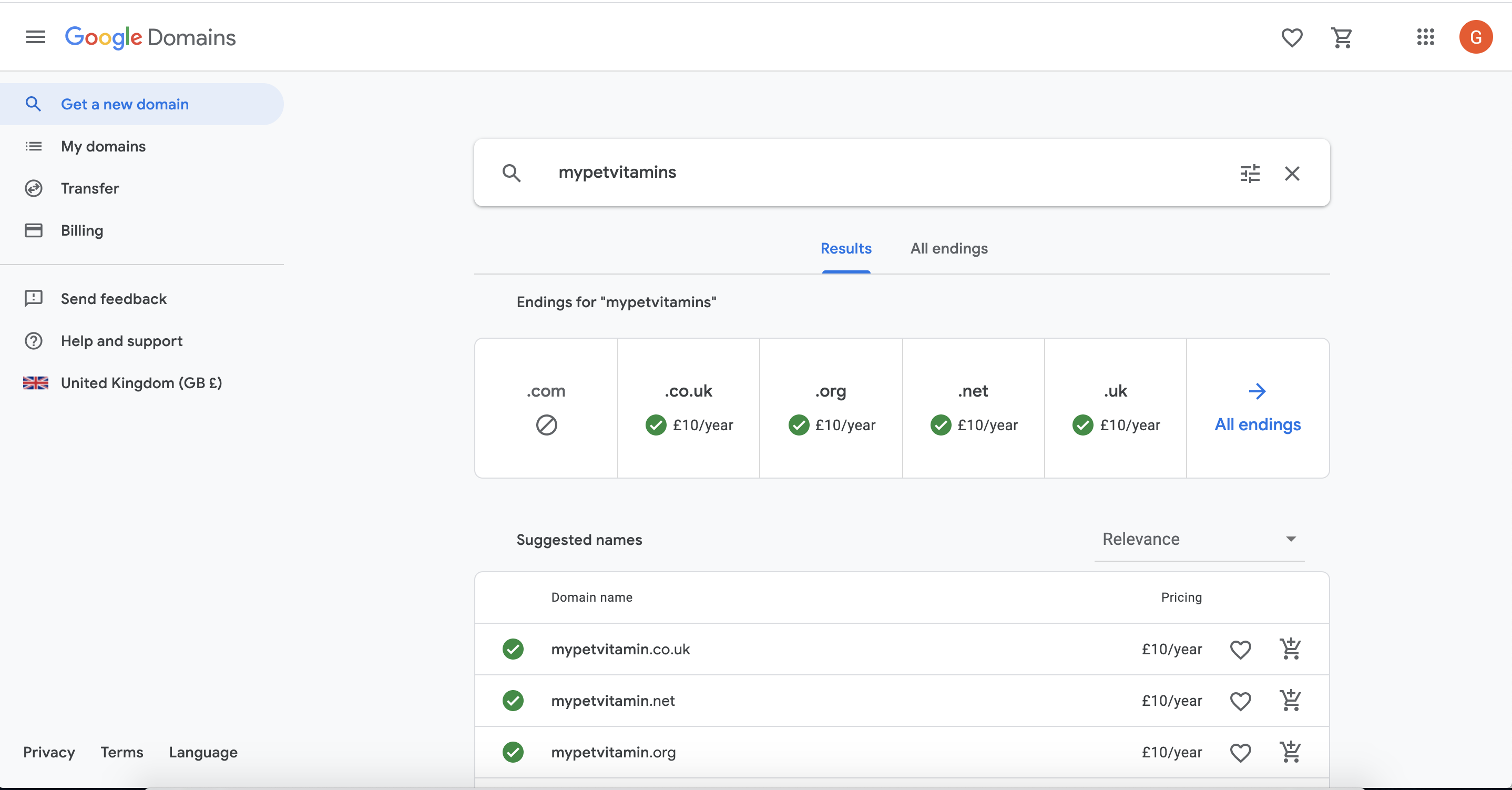 #2: Get a free domain name with GenUp Digital
All of our website templates come with a free domain name. If you choose to build your online pet store using the pet store template provided by GenUp Digital you will get a free domain name in the form of . 
For example, if you decided to call your business "My Pet Vitamins", your free domain name would be mypetvitamins.site.genupdigital.com.
You can launch your site with our free domain name or purchase a premium domain name and launch the site using that also. 
How to Create an Online Pet Store #5:

Build Your Online Pet Store
An online pet store website needs to be able to list products, collect payments and manage stock levels amongst other things. This type of website is called an e-commerce (online store) website.
Let's explore some of those features in more detail so that you can see the benefits.
#1: List and sell products directly from your website
An e-commerce store allows you to set up a "shop" within your website that lets you upload product information, images, prices, and special offers. 
You can easily upload new products, make changes to existing products, and update customers with information about product changes and new product lines.
Everything can be controlled and managed through your website and shared with customers in an instant.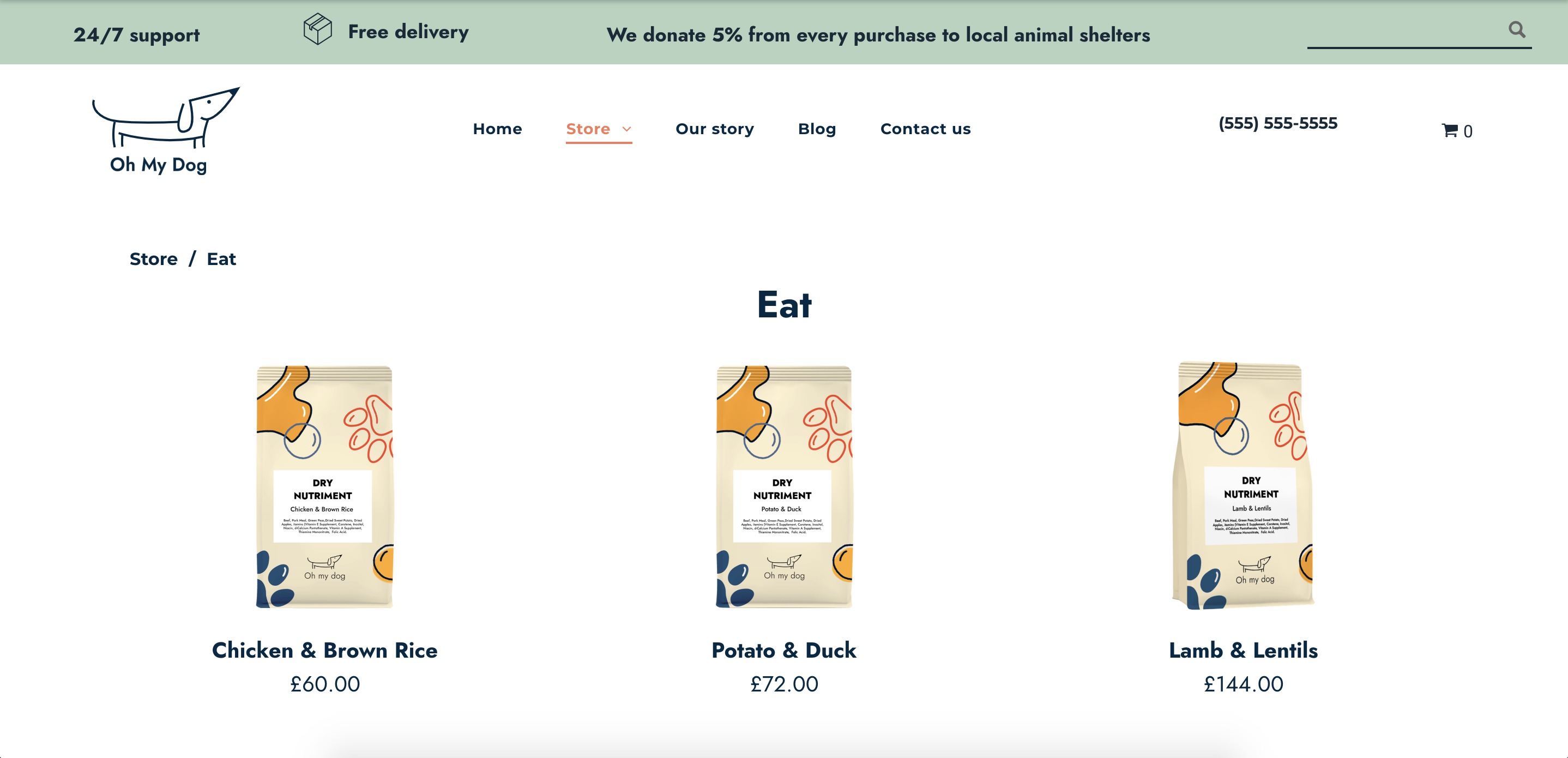 #2: Take payment online
E-commerce stores need to be able to take payment from the customer directly on the web page. Ideally, you want to make it as easy as possible for the customer to spend their money. 
Most website visitors are familiar with common payment processors such as PayPal, Stripe, and Square. Using them on your website increases trust and reduces the likelihood of customers leaving the site. 
A good e-commerce store will provide you with the option to connect with multiple different payment processors giving you and your customers flexibility and ease of payment. 
#3: Manage stock levels
When a customer searches for a product they want to know how many you have available to buy or if it's out of stock when it's likely to become available again. 
You can easily manage stock levels within your e-commerce store and set up notifications for customers to let them know when your product becomes available again to maximise sales.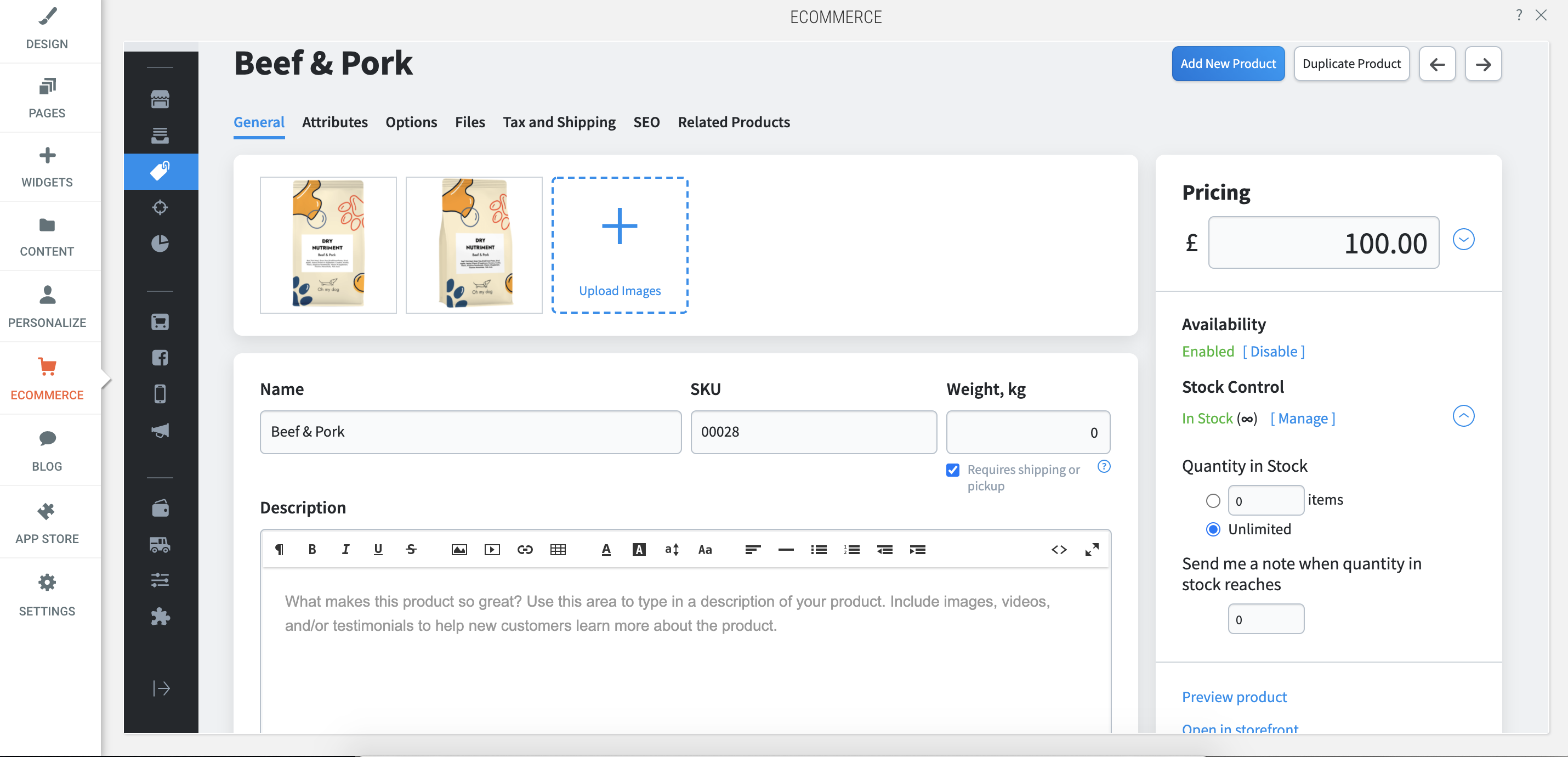 #4: Collect customer contact details
Most customers visiting your online store won't buy the first time they visit. 
It is generally accepted that potential customers need 6 – 8 touchpoints with your business before they become ready to buy. 
This means they need to see your products, read reviews, read your content, blog posts and social media to decide whether they trust you and believe your product is the one for them. 
The best way for you to do this is to collect email addresses of customers and potential customers so that you can nurture a relationship with them positioning your product as the best choice for them.
An e-commerce store allows you to create lead magnets, notifications and pop-ups to collect email addresses and start building relationships.

#5: Sell your products on social media
It's great having an online store but that alone is not going to bring customers directly to you. You will need to engage in regular, structured marketing to tell the world about your products. 
An excellent medium to promote your brand and products is social. A good e-commerce store has built in features that allow you to promote your products not only on your website but also via the social media channels where your customers spend most of their time. 
Get your products directly in front of your audience by sharing it on:
Facebook Messenger

Instagram

G

o

o

gl

e

Square

e

B

a

y

Amazon
Our e-commerce stores allow you to collect customer contact details, build an email list and sell your products on social media. 
#6: Manage abandoned carts
Not everyone who adds something to their cart makes it through the checkout process to complete a purchase. In fact, this can be as much as 80%!
To try and convert as many of those abandoned carts into buyers as possible you will need features that allow you to manage and monitor them.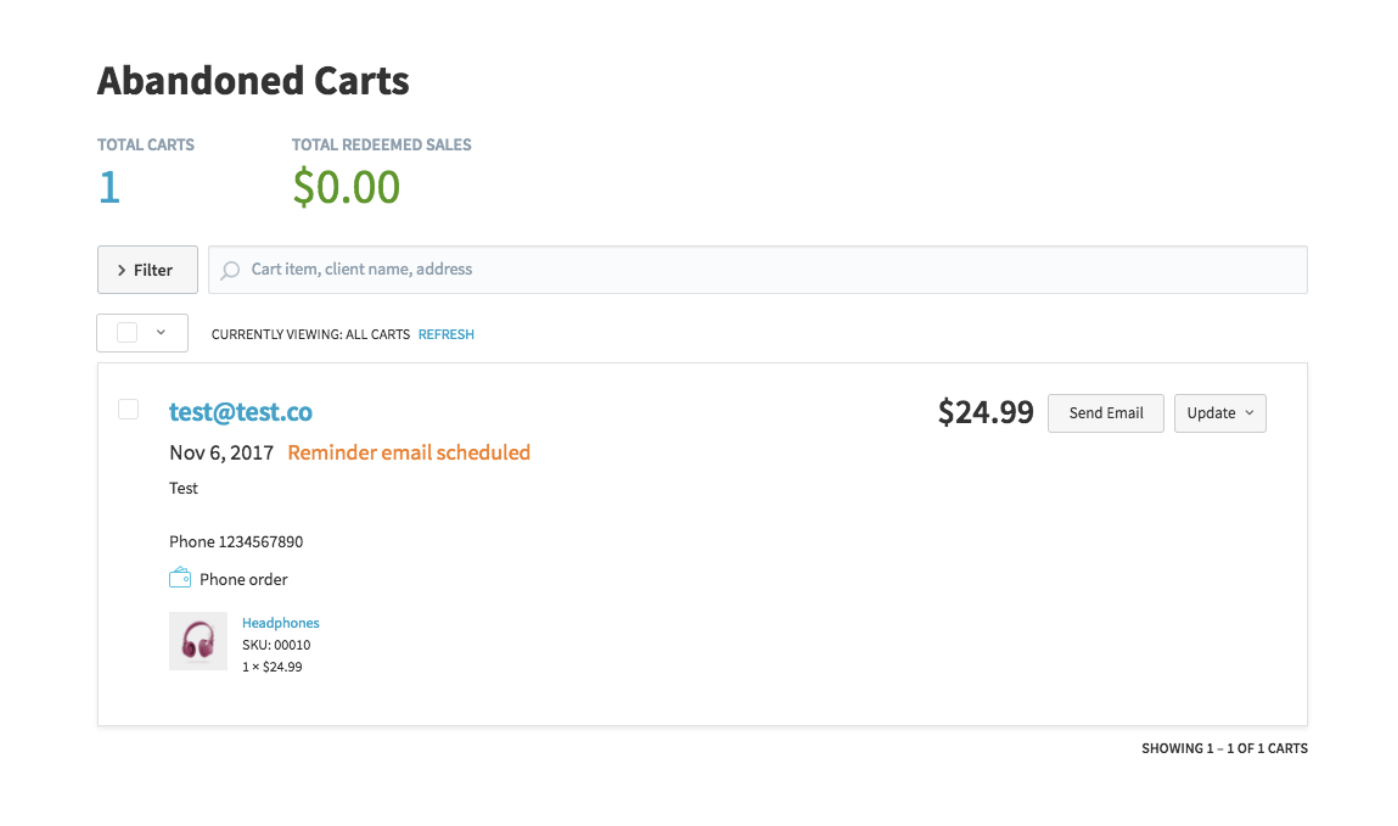 Our e-commerce sites allow you to view which carts have been abandoned and by which user (based on their email address). You are then provided with the option to email that user with a cart recovery email. 
A cart recovery email encourages customers to complete their order and provides them with a link that takes them directly to their order and checkout. 
You can even automate cart recovery emails in your site settings.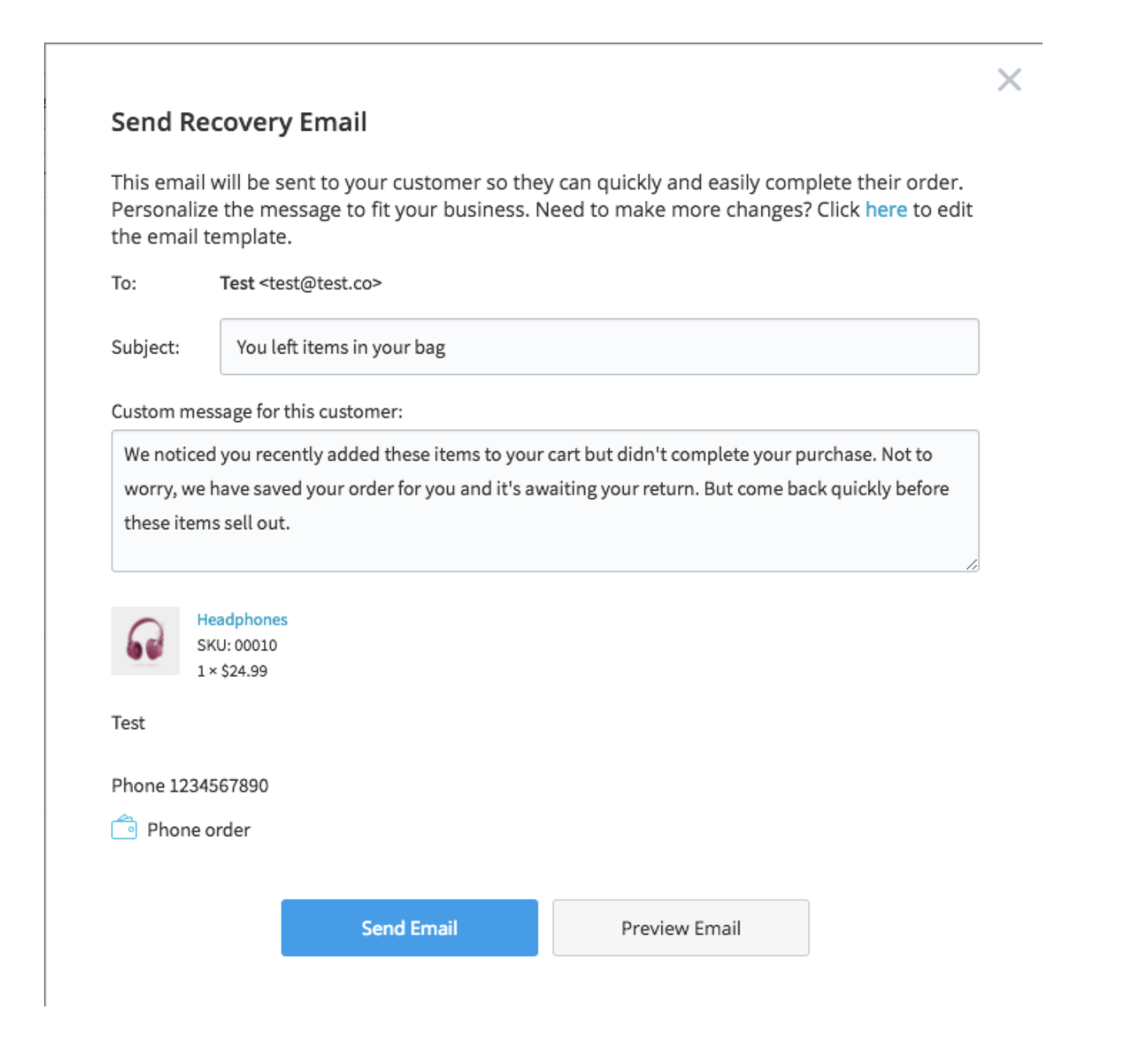 #7: Import products
Manually adding product information to your store one product at a time can be a tedious process. 
For each product, you will need to upload images, pricing, product information, stock levels, delivery information and discounts. 
To make this process faster you can use an import product tool. This tool allows you to add all the product information to a single spreadsheet (in CSV format).
Once you have completed the spreadsheet you upload it to your e-commerce store and all of your products will appear in your shop ready to be sold. 
#8: Configure shipping rates and tax zones
Shipping is a key element of an online store. Once the customer has purchased their product you need to be able to get it to them wherever they are in the world and offer appropriate shipping methods and pricing for each option. 
If you are selling smaller products in low volume you might personally take the product to the nearest post office. For international shipping or high volume orders you might use a shipping company like UPS or FedEx. In this case you will need to charge the appropriate fees to cover those costs. 
Our online stores provide tools for you to set up multiple shipping options and can connect you to real-time shipping (carrier calculated) rates. 
You can also set a flat or variable shipping rate depending on the products you are selling. 
For online stores selling products in different geographical regions, it is possible to set up tax zones. This allows you to add different tax rates to products depending upon where the customer is ordering their product.
How to Create an Online Pet Store #6:

Marketing Your Online Pet Store
An online business is more than just a website. If you don't promote your online store then you won't be getting any website traffic and you won't be making any sales.
So, what are your options for promoting your online pet store?
#1 – Paid Media (adverts):
If you have a marketing budget then you could consider investing in paid media channels to get your product in front of a large audience. The two most commonly used online paid media channels are Google Adwords and Facebook Ads.  
There is an initial learning curve in setting up ads on those channels and then a monthly financial commitment (expect to be paying £1,000 upwards per month as a starting point).
One of the biggest issues with paid media is that it takes time to get it right. You will need a budget that allows you to undertake to test different types of an ad campaign, test images, copy and targeting before you start to generate results. If you have a limited budget you will run out of money before you even get started.
Another consideration is that as soon as you turn the ads off the traffic to your site stops. In this instance, you will want to ensure you have an organic source of traffic to your site too.
For more information about Google Adwords check out Neil Patel's Beginner's Guide.
For more information about Facebook Ads check out Buffer's Facebook Ads Guide.
#2 – Organic
Organic promotion of your online pet store involves driving traffic to your site using a range of different (usually free) media.
This includes:
SEO (Search Engine Optimisation)
Social media
Blogs
Webinars
Online events
Forums / Groups 
#SEO (Search Engine Optimisation)
Search engine optimisation (SEO) is the process of improving the quality and quantity of website traffic to a website or a web page from search engines.
SEO is an excellent organic method for driving traffic to your website but it requires patience and hard work.
To rank in a high position in Google search you will need to create high-quality content that relates to your customers biggest problem pains.
Focus on creating content that educates and informs as opposed to sells.
For an expert guide to SEO check out this excellent SEO Basics guide by Moz.
By putting in the time to create high-quality content you will reap the benefits in the medium to long term.
#Social Media
Social platforms provide a free and highly engaging medium to promote your services, educate and entertain your target audience.
Set up accounts on the relevant platforms and share content that helps your target audience in relation to the niche you work in.
For a more complete guide check out HubSpot's Ultimate Guide to Social Media Marketing.
#Blogs
Your online pet store (e-commerce site) should have a blog as standard.
You can use your blog to create content about your brand and products but more importantly to create high quality educational and informative content that helps your customers.
Use your blog for:
Product reviews
Answering FAQs
Sharing "how-to" articles
Interviewing experts
Promoting events
Sharing customer reviews
For more information check out Neil Patel's Guide to Content Marketing.
Follow these steps for getting ready to promote your business and drive traffic organically:
If you are just starting out and don't have a budget for paid media then you need to get really good at promoting your business using the organic methods listed.
#1: Get clear on who your customers are:
In step 2 you worked out the niche that your business is going to operate in. Now you need to think about who the customers are that you will serve in that niche.
For example, are they stay at home mums or university students? Are they high earning city professionals or village dwelling pensioners?
Your customers are not "everyone", so you need to think about who they are and where you will likely find them online.
#2: Work our where your customers spend their time online:
In order for you to get your business in front of your specific audience, you need to know if they spend most of their time on Facebook or Instagram, Pinterest or Twitter.
Do they frequent forums on Reddit or mostly comment on cat pictures on the gram?
Are they already members of Facebook groups set up for "Cat lovers" or "pets with health problems"?
There is no point in creating content about your product and sharing with an audience which doesn't exist on the platform you have chosen.
Do your research first and see where you should be focussing your efforts.
#3: Have a look at what your competitors are doing to promote their brand
As a new business, you are not going to have the resources to promote your online pet store in the same way as your biggest competitors, but you can take a look at their social media and gain an understanding of the type of content that does well for their audience.
Have a look to see which of their posts and content gets the most engagement (likes, shares and comments).
Is it images, videos, quotes, short-form or long-form content? Build up a picture of what works well for each company and decide if that would also work well for you.
Ready to get started building your online pet store?
Sign up for our 30-day FREE trial below!
Pet Store Website Template Video Preview
How to start using this template:
Select the Pet Store template from the GenUp Digital template library
Sign up for an eCommerce package starting at just £21 per month (+VAT)
Pay nothing for 30 days (cancel within 30 days you are charged nothing.)
Sign up for our FREE online courses to learn how to build a website and online business